Goal Setting for Teens
 Goal Setting Book for Teens 
 What will teenagers learn about:
goal setting                               respect                                   determination                conquering their fears
responsibility                     setting priorities                 minimizing excuses                educational ownership
making better decisions                     taking action on your dreams               developing a positive attitude                                      
What's Unique About this Goal Setting for Teens Program?
Most students get a brief description of goal setting in a  30 minute segment of a much larger program – i.e. anti-bullying, character education, drug prevention.  How can a teenager learn to actually use these principles in 30 minutes?  Impossible….The Goal Setting for Students program is broken into eight 30 – 45 minute segments that gives each student chapter information, examples, discussion stimulating questions, and "homework" to be discussed with their parents.  Our Facebook page will give some examples of where the material is being used in and out of school.
This unique Goal Setting for Students book has eights school oriented chapters:
What is Success?……………Goal Setting Principles…………… Samples and Practice
Investing Yourself……………Measuring Your Progress……………Meeting the Challenge……………Summary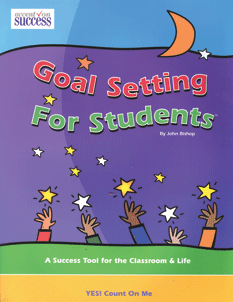 "……. I learned to never give up.  It is important to have
    pride in yourself and to try your hardest to achieve all
    your goals."    Ryan Chase, student
                     ———————–
  "This goal setting book is for parents who want to show
  their kids how to create a vision and then go after it — one step at a time. "  
- Julie Hood, Parent
  "… It is organized, easy to implement, and it is
  presented in a positive and affirming manner… Our
  students learned THEY can make a difference in their lives."
                     Georgia Bland, middle school principal
               Price:  $3.95                      
    —- Share/Bookmark — 
 What is Goal Setting?
 Goal setting is not easy; if it were everyone would be doing it.  To-do  lists are an important first step in learning how to use goal setting in your daily life.  
To – do lists are NOT the same as setting goals.  So what is the difference?
            1.    Goal setting provide purpose and direction.
            2.    Goals help us set priorities and stay motivated.
            3.    Goal setting is much more than writing a daily checklist.
            4.    Goal setting allows us to see the bigger picture and set in motion a plan to
                    fulfill your dreams.                           
            5.   Setting and achieving goals gives us a sense of ownership and pride.
            6.   Goals help us recognize our strengths, and areas that need further development.
            7.   Enthusiasm, a positive self image, focus and effective time management
                   are all by-products of a successful goal setting habit.  
            8.   Having goals helps us make better choices in friends, schools, careers & relationships.
            9.   Goal setting will help YOU define your path to your future success.
           10.  Goal setting teaches you how to develop a plan, set a timetable and take action
                    on your dreams.           
_______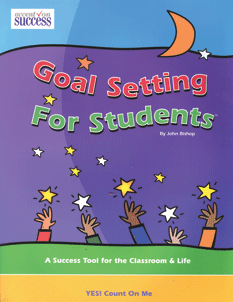 Discussion stimulating format on these life skills topics: 
  goal setting……respect……responsibility……determination……conquering your fears……making better decisions……minimizing excuses……educational ownership……setting priorities……taking action on your dreams…….developing a positive attitude 
    Price : $3.95                                          
More Book Details
"… It is organized, easy to implement, and is presented in a positive and affirming manner…
Our students learned THEY can make a difference in their lives."
-Georgia Bland, inner-city middle school principal
_________
Book:  Goal Setting for Students
Price : $3.95                                          
These Teaching Moment ideas can be download and distribute free.  We only ask that you include the website address www.GoalSettingForStudents.com
10 Thinks Anger Steals from You